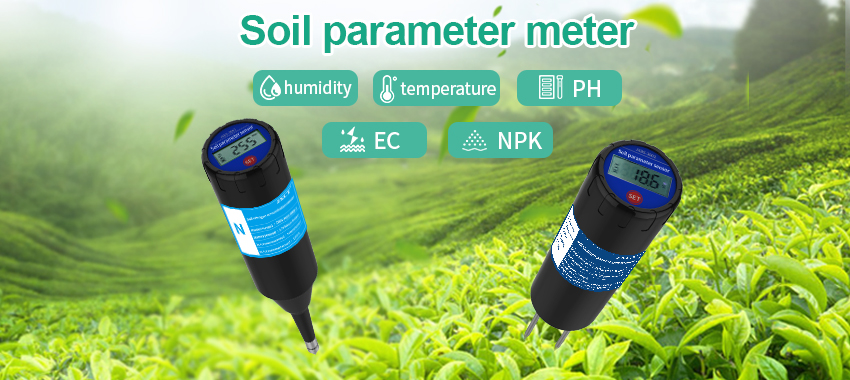 Soil parameter quick measuring instrument(soil sensor) has high precision. Soil sensor can monitor soil temperature and humidity,pH value, nitrogen,phosphorus, potassium and electrical conductivity.It is simple and convenient, with low cost and fast measurement speed.This product is a sensor independently developed by our company for rapid detection of soil composition. The shape of the soil meter is hand-held, which is convenient for users to carry. The probe adopts three needle probe design. The material is stainless steel with good corrosion resistance and toughness.
(1)accurate measurement
When the metal probe is inserted into the soil, the measurement results can be displayed in a few seconds, and the measurement is accurate.
(2)3. 7V low lithium battery, low power, low consumotion.
The product is powered by a 3. 7V lithium battery, which has low power consumption, long life andeasy to use.
(3)Large screen LCD digital display
Clear reading, high definition large screen display, easy to read, digital display at a glance.
(4)Plug and play
The measurement product can be inserted into the soil, which is simple and convenient, low cost and fast.
Soil parameter speedometer uses advanced FDR measurement methods,FDR is a new generation of soil measurement technology using the frequency domain reflection electromagnetic pulse count to measure soil.
FDR measurement methods:
High precision: can achieve accuracy within 3%;Good consistency: electromagnetic non-contact measurement is used to enhance stability,measurement accuracy does not deviate over time, extending life.
(1)Soil temperature detection:Easy to understand.Soil temperature determines the living environment of the plant to create a standard greenhouse for your soil.
(2)Soil pH test:Accurate control,Soil pH affects plant growth and protects your soil acid-base balance.
(3)Soil NPK detection:Test at any time,Soil NPK is an important nutrient element for plant growth and promotes plant growth.
(4)Soil conductivity test:Rational planting,Soil conductivity reflects soil salinity and affects soil nutrient conversion and effectiveness.
Soil sensor is suitable for farmland production, soil research, greenhouse planting, orchard nursery, all kinds of horticultural soil testing, support parameter free customization, multi in one soil sensor customization.
Matters needing attention:
1. The probe must be in full contact with the soil and compacted to ensure the accuracy of data.
2. Soil moisture meter only tests soil and soil, not for dry flour, small stones, organic wood chips, liquid particles, etc.
3. In order to improve the accuracy of the test results, please use the multi-directional method point test and the average value during the test.
4. Do not touch the stone at the test point or exert too much force, otherwise the electrode may be damaged. Not suitable for long time in the soil, easy to oxidize.
5. After the measurement, clean the soil particles on the surface of the probe with gauze in time to keep the probe dry.